Soups to nourish your body and soothe your tummy
If I'm having trouble with my stomach and want an easy way to get lots of nutrients into my body easily, I'll go for a gut friendly soup recipe. I'll add lots of herbs and spices that help to soothe my gut and top these soups with some seeds, olive oil or roast veg to give it extra flavour, texture and nutrient power. You can also top with cooked meat, pesto or a sprinkle of nuts and seedsto add some crunch.
I won't always want to add onions to my soup base as these are fermentable and can lead to gas. I sometimes omit the garlic and use a garlic infused oil if my stomach is particularly irritated.
* Just one note, if you are not using a hand blender, leave your soup to cool for a while before blending to avoid steam burns and potential kitchen clean up nightmares!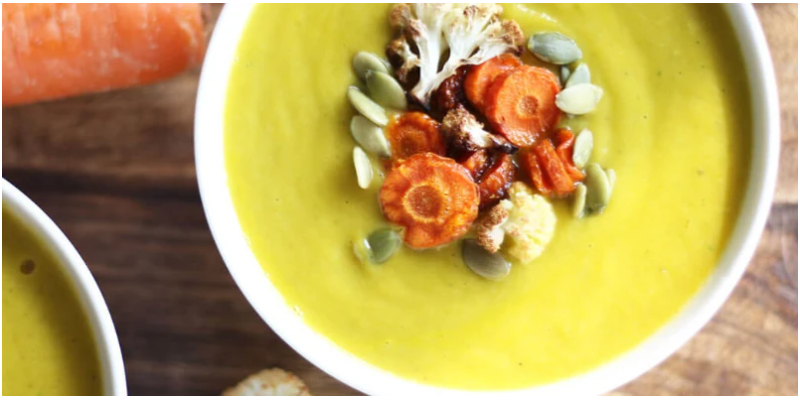 Cauliflower and Carrot Soup (serves 4)
Ingredients:
30 ml Extra Virgin Olive Oil
6 stalks Onion (chopped)
5 Carrot (medium size, chopped)
1 head Cauliflower (chopped into florets)
1.4 l Water
2 g Dried Thyme
Generous pinch Sea Salt
30 g Parsley
Method:
Heat the olive oil in a large stock pot over medium-low heat.
Add the onions and saute until softened. Add the carrot, cauliflower, water, thyme and salt. Cover the pot and bring to a boil. Once boiling, reduce to a simmer.
Let simmer for 20 minutes then add in the parsley and stir until wilted. Turn off the heat.
Puree the soup using a blender or handheld blender. (Note: If using a regular blender, be careful. Ensure you leave a space for the steam to escape).
Taste and adjust seasoning if needed. Ladle into bowls and enjoy!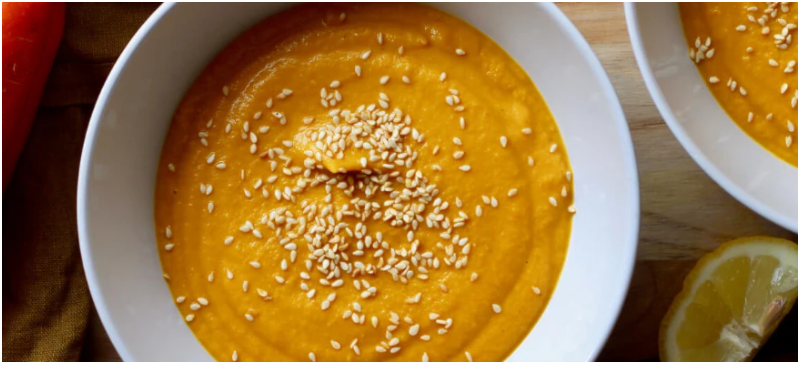 Roast Carrot & White Bean Soup (serves 4)
Ingredients:
18 Carrot (medium, peeled and roughly chopped)
30 ml Extra Virgin Olive Oil (divided)
1 Onion (medium, diced) – Optional
3 stalks Celery (chopped)
4 Garlic (cloves, minced) – Optional
950 ml Vegetable Broth or Bone Broth
364 g Butter Beans or other white beans (cooked, drained and rinsed)
3 g Turmeric
60 g Tahini
1/2 Lemon (juiced)
Sea Salt & Black Pepper (to taste)
Method:
Preheat your oven to 180ºC (375ºF ) and line a baking sheet with parchment paper.
In a large bowl, toss the chopped carrots with half of the olive oil. Spread them over the baking sheet and roast for 40 minutes, tossing halfway through cooking.
In a large pot, heat the rest of the olive oil. Add the onion and celery, cook for 7-10 minutes or until softened. Then add the garlic and cook for 2 to 3 more minutes.
Add the roasted carrots, vegetable broth, white beans, turmeric, and tahini into the pot.
Set aside to cool and then use an blender to puree until completely smooth. Add lemon juice and salt and pepper to taste.
Divide between bowls and enjoy.

Vegetable Barley Soup (serves 6)
Ingredients:
15 ml Extra Virgin Olive Oil
1/2 Onion (chopped)
1Carrot (peeled, chopped)
1 stalk Celery (chopped)
350 g Butternut Squash (peeled, chopped)
2 Garlic (clove, minced)
1 Courgette (chopped)
100 g Pearl Barley
6 g Sea Salt
1 g Dried Thyme
1.4 liters Vegetable Broth or Bone Broth
60 g Baby Spinach
Method:
Heat the oil over medium-high heat in a large pot. Add the onion and cook for about 5 minutes until it begins to soften. Add the carrot, celery, squash and garlic and cook for 2 to 3 minutes more.
Add the courgette (I still have plenty left over from our garden this Summer), barley, salt and thyme. Stir to combine then add the vegetable broth. Bring to a boil then reduce heat to medium-low and cover with a lid. Let the soup simmer for 35 to 40 minutes or until the barley is tender.
Stir in the baby spinach and season with additional salt if needed.
Divide between bowls and enjoy.

Creamy Potato & Dill Soup (serves 4)
Ingredients:
720 ml Vegetable Broth or Bone Broth
2 Sweet Potato (small, peeled and diced)
2 stalks Celery (diced)
3 g Sea Salt
1 g Fresh Dill (stems removed, chopped)
225 ml Canned Coconut Milk
15 ml Apple Cider Vinegar
9 g Nutritional Yeast
Method:
Heat the vegetable broth in a pot and bring to a simmer while you prepare the remaining ingredients.
Add the sweet potato, celery and salt.
Cook until the sweet potato is fork tender, about 15 minutes.
Stir in the dill, coconut milk, apple cider vinegar, and nutritional yeast.
Adjust the salt as needed and cook for another 10 minutes.
Divide evenly between bowls and enjoy!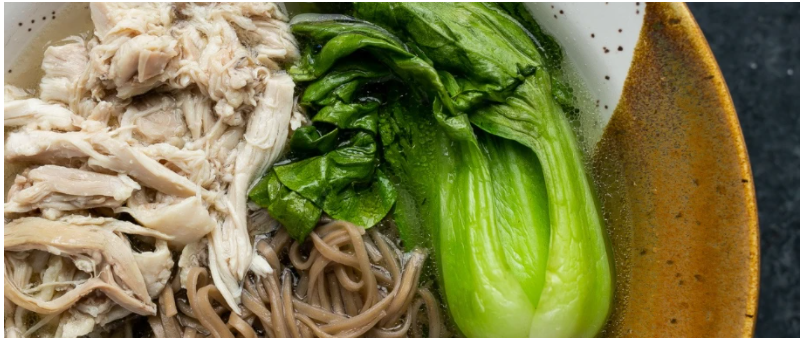 Chicken Soba Noodle Soup
Ingredients:
227 g Chicken Legs on the bone with skin on
1.4 l Water
12 g Ginger (sliced)
2 g Fish Sauce – Optional
6 g Sea Salt
200 g Buckwheat Soba Noodles
140 g Pak Choi / Bok Choy (quartered)
1 Lime (quartered)
I make this for my son without the fish sauce as he is allergic.
Method:
In a large pot, combine the chicken legs, water, ginger, fish sauce and sea salt. Bring to a boil and lower to a simmer. Cook for 40 minutes, or until the chicken is cooked through. Skim the top of the water as needed.
Meanwhile, cook the soba noodles according to the directions on the package. Drain and rinse with cold water until completely cooled. Set aside.
Carefully remove the chicken legs from the broth and transfer to a large bowl. Using two forks, shred the chicken and remove the bones.
Divide the soba noodles, pak choi and shredded chicken into bowls.
Pour the chicken broth overtop and serve with lime wedges. Enjoy!